The 83rd annual Atlanta Dogwood Festival returns to Piedmont Park this spring, April 12th – 14th!
Springtime is here, and that means it's time to celebrate at the 83rd Annual Atlanta Dogwood Festival April 12th through 14th. Piedmont Park comes alive with fine art and live music. Admission is free PLUS Family Friday is back with unlimited ride passes, discounts on food and drinks and family friendly entertainment!  The festival features a Kids Village presented by Visit Tallahassee and everyone will enjoy fantastic live music on the Coca-Cola Main Stage.
It's a full weekend of fun for you and the family!  The Atlanta Dogwood Festival is supported by AARP and Georgia Drives Chevy.
ARTIST MARKET | FOOD VENDORS | KIDS VILLIAGE | LIVE MUSIC & PERFORMANCES | INTERNATIONAL VILLAGE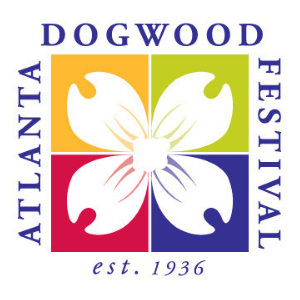 FESTIVAL HOURS
Friday 12:00 p.m. – 11:00 p.m.
Saturday 10:00 a.m. – 11:00 p.m.
Sunday 10:00 a.m. – 6:00 p.m.
Find out more at dogwood.org
The best way to get to the festival is via MARTA
Due to a City of Atlanta ordinance, no pet dogs are allowed at large outdoor events like this festival.